Happy Gardening !!!
Our Mission: To provide the finest quality home gardening tips, growing information, trivia and garden resources, from seed starting to growing, harvesting, storing and eating the fruits, herbs, vegetables, and edible flowers of our gardening labor.
The Gardener's Network is the perfect gardening place for you and your plants, the perfect source on how to grow just about any plant!
Garden Planters- They come in a huge assortment of almost any shape, size, color and material. Garden planters find themselves at home indoors or out, on the deck, or out in the yard or garden. Traditional planters that set down on the ground, patio or deck, are by far the most popular. Vertical planters can open up new garden opportunities, especially in vertically space constrained areas. There's a garden planter for every spot and every need. More about garden planters, pots and container
Pest Control - Your flowers and vegetable plants are up and growing. ......kewl! You are anxiously awaiting the harvest. So are the birds, deer, rabbits, and a vast army of other pests. Among the many pest control products, pest netting is the best solution in many cases. Bring an end to animal pest snack time......period.


If you're a gardener, you've gotta be a composter. Learn all you can about composting. See the "How to Compost" section of our website, with over 40 pages of information about composting. It's far more composting information than any other website on the internet. Whether you're looking for just a little information, or a whole lot of learning, we've gotcha covered. All About Composting


See Our Garden Blog! Our gardening blog brings you regular, year round articles on gardening, from seed starting, to harvesting and storage. We're talking gardening of all kinds, and we're talking now. See Gardener's Network Garden Blog


Strawberry season is here and now. Strawberries are one of America's favorite fruits. They're easy to grow, and popular in the home garden. You love 'em. So do a number of garden pests. More on Strawberries


Succession garden planting maximizes the output of your garden. This easy gardening technique, provides produce for the table over a longer period of time. All it takes is a little planning, and the proper timing. More on succession planting.


Organic gardening is healthy and growing. One reason we grow our own herb and vegetable plants, is to produce healthier food for our families. Even if you're not an organic home gardening purist, there are a lot of easy to use organic gardening tips to make the food you eat even healthier for you! More on Organic Gardening
Top Ten Gardening Tips for June - Every gardener seeks new tips and ideas on how to grow bigger, healthier plants. We've got monthly tips on all sorts of garden topics and issues. You're bound to find ideas that you can use. Grab a garden tip to use this month. See: June Gardening Tips


Bird watching is a huge hobby. As a matter of fact, it edges out gardening as the #1 hobby. And, the spring migration is happening now.


Today's Home Garden Recipe Suggestions: You grew it. Now, it's time to cook it.
Today's Deep Thought: "Gardeners know the best dirt."
---
On the Light Side:
Top 10 Signs You've Gone over the Garden's Edge- How avid a gardener are you?
Gardening Holidays - A reason to celebrate!
---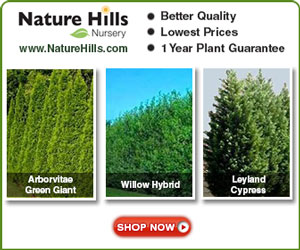 ---
Community News and Info:
The Gardener's Network Blog - We're talking gardens and gardening twelve months of the year. Don't miss a single garden article.