Our Mission: To provide the finest quality home gardening tips, growing information, trivia and garden resources, from seed starting to growing, harvesting, storing and eating the fruits, herbs, vegetables, and edible flowers of our gardening labor.
The Gardener's Network is the perfect gardening place for you and your plants, the perfect source on how to grow just about any plant!

Lilacs are one of America's most beloved flowers. We wait almost a year for these fragrant, flowering bushes to bloom. That time is now, and we celebrate with festivals, and plenty of bouquets on the table. Ps. Don't forget your camera!


See Our Garden Blog! Our gardening blog brings you regular articles on gardening, from seed starting, to harvesting and storage. We're talking gardening of all kinds, and we're talking now. See Gardener's Network Garden Blog


Early season crops are the focus this time of year. Isn't it great to have fresh, healthy, home-grown veggies again!? Look for fast growing plants that thrive in cool spring weather. They include:
Garden Planters- They come in a huge assortment, almost any shape, size color and material. Garden planters find themselves at home indoors or out, on the deck, or out in the yard or garden. There's a garden planter for every spot and every need. More about garden planters, pots and container


Pest Control - Your flowers and veggies are up and growing. ......kewl! You are anxiously awaiting the harvest. So are the birds, deer, rabbits, and a vast army of other pests. Put an end to the free lunch.
Top Ten Gardening Tips for May Grab a few garden tips to use this month. See May Garden Tips.


Spotlight Garden Plant: It blooms at night, an closes up in the daytime. Make sure to plant it near your deck, a sidewalk or walking plants, so people can enjoy this sweet scented flower. See it now
Composting starts now.... and continues all season long. Correction: make that "all year" long. The best gardens are grown by gardeners who make their own compost. More on Composting
Bird watching is a huge hobby. As a matter of fact, it edges out gardening as the #1 hobby. And, the spring migration is happening now.
Organic gardening is healthy and growing. Perhaps one of the reasons you grow your own herbs and vegetables is to produce healthier food for you and your family. Even if you're not an organic gardening purist, there are a lot of easy to use organic gardening tips to make the food you eat even healthier for you! More on Organic Gardening


Today's Gardening Deep Thought: "Sow generously, and you will reap generously."
---
On the Light Side:
Top 10 Signs You've Gone over the Garden's Edge- How avid a gardener are you?
Gardening Holidays - A reason to celebrate!
---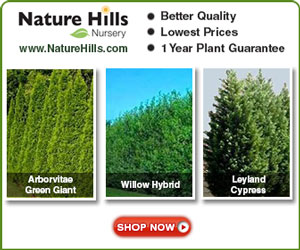 ---
Community News and Info:
The Gardener's Network Blog - We're talking gardens and gardening twelve months of the year. Don't miss a single garden article.