Happy New Gardening Year !!!
Our Mission: To provide the finest quality home gardening tips, growing information, trivia and garden resources, from seed starting to growing, harvesting, storing and eating the fruits, herbs, vegetables, and edible flowers of our gardening labor.
The Gardener's Network is the perfect gardening place for you and your plants, the perfect source on how to grow just about any plant!
April marks a new gardening year! Speaking for every gardener residing in the Northern Hemisphere, April is a spectacular month to be a gardener. Many of us, have waited all winter for April to arrive. Each new day finds the sun a little higher in the sky for a little longer duration, bringing ample amounts of sunshine and increasingly warmer days. Wherever we are, there's gardening activities to perform that will get dirt under our fingernails. April is all about sprucing up the yards and getting our gardens ready for planting. This month we also see the birth of new plants and seedlings, along with the new, lush and vibrant growth on trees, bushes and perennials. While we are excited and eager to "get gardening", many of us must still be vigilant for an unexpected visit from Jack Frost.
Forsythias are one of spring's earliest blooming bushes. Attractive and easy to grow. More on Forsythia bushes.


Top Ten Gardening Tips for April Our newest category offers you gardening tips each month. Grab a garden tip to use this month. See April Garden Tips.


A Garden Encyclopedia We strive to provide the most in-depth how to grow guide sheets and information. Spring planting time is arriving in your area. In some places, the season is already underway. We've got plenty of gardening tips and techniques, to help you to grow all of your favorite vegetables, flowers, herbs, organics, and your favorite heirlooms, too. Our fact sheets will help you to have the best garden you can grow.


Indoor Plant Starts - Starting seeds indoors to transplant later, is one of the joys of gardening. Why let the garden stores have all the fun, when you can start your own seedlings!? Review the basics of seed starting, and seedling care. As a rule of thumb, most indoor planting starts should be planted six to eight weeks before the last frost in your area. And, that time is now!


Hot Peppers are getting hotter and hotter every year. Ghost Peppers, the hottest hot pepper on the planet just a few years ago, now barely makes the top ten list. Find the Top 10 Hot Peppers in the world!
From Outer Space? There's a few plants, that seem like they must certainly be alien in origin. Yet, you can find them growing in your vegetable garden, right here on Earth. See it now


Spotlight Garden Plant: You don't need to watch television or listen to the radio to get the weather forecast. This plant predicts the weather! See it now


Organic gardening is healthy and growing. Perhaps one of the reasons you grow your own herbs and vegetables, is to produce healthier food for you and your family. Even if you're not an organic gardening purist, there are a lot of easy to use organic gardening tips to make the food you eat even healthier for you!


Today's Gardening Deep Thought: "Sow generously, and you will reap generously."


Our Favorite Spring Quote: " In the spring, at the end of the day, you should smell like dirt." - - Margaret Atwood

---
On the Light Side:
Top 10 Signs You've Gone over the Garden's Edge- How avid a gardener are you?
Gardening Holidays - A reason to celebrate!
---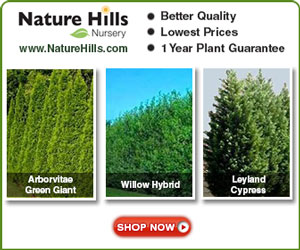 ---
Community News and Info:
The Gardener's Network Blog - We're talking gardens and gardening twelve months of the year. Don't miss a single garden article.