November - A Time to Give Thanks
Our Mission: To provide the finest quality home gardening tips, growing information, trivia and garden resources, from seed starting to growing, harvesting, storing and eating the flowers, fruits, herbs, and vegetables of our gardening labor.
The Gardener's Network is the perfect place for you and your plants, the perfect source on how to grow just about any plant!
Happy Thanksgiving!!

Harvest and Thanksgiving - Americans really enjoy November and Thanksgiving. For just a moment we slow down. The outdoor gardening season is over for most of us. We turn to indoor activities. Cooking and baking returns to our vocabulary. Many of the recipes we use this month focuses upon apples, pumpkins, and other foods that came out of our gardens. Most of all, we give thanks to God for the many blessings he has bestowed upon us and our gardens.
All of us at The Gardener's Network, wish you a very happy, and blessed Thanksgiving!
Enjoying the Harvest - You grew it. Now, you get to enjoy it. So, let's cook up some great garden recipes.
How about.........
Garden Recipe Tip of the Day: To avoid getting cut when chopping or slicing vegetables, let someone else hold the vegetables........


Back to House plants As we edge closer to the first frost, it is time to select the plants that you will bring indoors to grow as house plants. If you haven't done so before, try a few herbs. Ones like basil, chives and oregano are good candidates to grow in your home. In addition to being good house plants, you can use them in the kitchen. Winter long.


Composting .... Don't throw out those dead plants...... compost them. Collect your garden waste, along the weeds and other plant matter. Turn it into rich garden soil for next season. The best gardens are grown by gardeners who make their own compost.


Gardening Tips for November Grab a garden tip or two for this month. See November Garden Tips.


Winterizing Shrubs and Trees - Even hardy trees and shrubs can suffer winter damage. From heavy snow and ice damage, to sun scald, there are many winter dangers. Learn the most common problems, and how to prevent damage to your plants.


Today's Garden Quote: "Old Gardeners never die. They just spade away, then throw in the trowel" H.V. Prochnow, Sr.
---
On the Light Side:
The Fortune Turkey - Your fortune read in a unique way.
Gardening Holidays - A reason to celebrate!
Greeting Cards Send an Ecard to a friend or family member for just about any event. Free Ecards from our sister site.
Gardening Holidays - A reason to celebrate!
---
---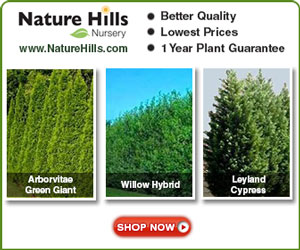 ---
Community News and Info:
The Gardener's Network Blog - We're talking gardens and gardening twelve months of the year. Don't miss a single garden article.