It's July and it's sizzlin' hot! It's time for baseball, hot dogs, apple pie and The Gardener's Network, where every day is a gardening day. As we enjoy those lazy, hazy, crazy days of summer, we prepare a lot of meals on the grill. Make sure to check out our growing list of Grillin' Recipes.
To many people, July and August is one big holiday. As gardeners, we too certainly consider July and August one big holiday ...... as it's our gardening season. You spend a lot of time keeping your garden growing strong, and reaping the bountiful harvest of your efforts. Set aside a little time to celebrate the many holidays that come along in July and August.
Pest Control - Your flowers and veggies are up and growing. ......kewl! You are anxiously awaiting the harvest. So are the birds, deer, rabbits, and a vast army of other pests. Check out the all new Buffet Buster! It ends their snack time...period.

Succession planting maximizes the output of your garden, and provides produce for the table over a longer period of time. All it takes is a little planning, and the proper timing. More on succession planting.
Enjoying the Harvest - Harvesting the first few fruits and vegetables is a real joy. In short order, you go from a few Zucchini and a couple heads of lettuce, to more than you can handle. What you need is more different and unique recipes.
Blueberry harvest is underway! Blueberries taste good and are good for you. And, they are ripening up right now. If you're growing 'em, you'd better protect them from birds.


Top Ten Gardening Tips for July: One of the exciting things about gardening, is there is always something new to learn, and some new ideas to try out in your own garden. Grab a garden tip or two to use this month. See: July Gardening Tips


Composting starts now.... and continues all season long. Correction: make that "all year" long. From kitchen scraps, to corn husks, to garden weeds, there's always something available The best gardens are grown by gardeners who make their own compost. And, it's so easy to do. Our composting section is the largest on the net for this important gardening topic.


Organic gardening is healthy and growing. Perhaps one of the reasons you grow your own herbs and vegetables is to produce healthier food for you and your family. Even if you're not an organic gardening purist, there are a lot of easy to use organic gardening tips to make the food you eat even healthier for you! More on Organic Gardening


Today's Home Garden Recipe Suggestions: You grew it. Now, cook it.
Today's Deep Thought: "Gardeners know the best dirt."


On the Light Side:
Spuds Trivia - What do you know about potatoes?
Gardening Holidays - A reason to celebrate!
---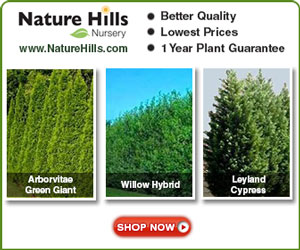 ---
Community News and Info:
The Gardener's Network Blog - We're talking gardens and gardening twelve months of the year. Don't miss a single garden article.