Happy Gardening !!!
Our Mission: To provide the finest quality home gardening tips, growing information, trivia and garden resources, from seed starting to growing, harvesting, storing and eating the flowers, fruits, herbs, and vegetables of our gardening labor.
The Gardener's Network is the perfect place for you and your plants, the perfect source on how to grow just about any plant!
Garden Pest Control - Your flowers and veggies are blooming and ripening......kewl! You are anxiously awaiting the harvest. So are the birds, deer, rabbits, and a vast army of other pests. We recommend low cost pest netting! It ends garden pest snack time...period.
Attention all beer lovers - If you're a gardener and a beer lover, don't miss following our Hops Growing Diary. It's amazing to watch the bines (that's right, "Bines", not "Vines"), as they make their stellar, high speed climb to 15 or 20 feet. Watch now as flowers are developing. Then, in a short while, the "cones" will grow and ripen. Even first time growers like me, find this flavorful plant easy to grow. See Hops Growing Diary.


Gardening Tips for August Our newest category offers you gardening tips each month. Grab a garden tip, or two, or ten for August. See August Garden Tips.


Succession planting maximizes the output of your garden, and provides produce for the table over a longer period of time. All it takes is a little planning, and the proper timing. More on succession planting.


See What's Happening on Our Garden Blog! Our gardening blog brings you regular articles on gardening, from seed starting, to harvesting and storage. We're talking gardening of all kinds, and we're talking now. See Gardener's Network Garden Blog


Enjoying the Harvest - Harvesting fruits and vegetables is a real joy. In short order, you go from a few Zucchini and a couple heads of lettuce to far more than you can handle. Chances are, you're giving lots of veggies away to family and friends. What you need, is more different and unique recipes.
May we suggest........
Garden Recipe Tip of the Day: To avoid getting cut when chopping or slicing vegetables, let someone else hold the vegetables........
Harvest Time means canning and drying fruits, vegetables, and herbs. You worked hard to grow them. Now, you can prepare and store excess foods for later use.....kewl!
Blueberry harvest is underway! Blueberries taste good and are good for you. And, they are ripening up right now. If you're growing 'em, you'd better protect them from birds.


Thought for the Day: If life deals you lemons, make lemonade. If life deals you tomatoes, make Bloody Marys.


Composting starts now.... and continues all season long. Correction: make that "all year" long. The best gardens are grown by gardeners who make their own compost. More on Composting


Organic gardening is healthy and growing. Perhaps one of the reasons you grow your own herbs and vegetables is to produce healthier food for you and your family. Even if you're not an organic gardening purist, there are a lot of easy to use organic gardening tips to make the food you eat even healthier for you! More on Organic Gardening


Today's Deep Thought: "Gardeners know the best dirt."
---
On the Light Side:
Top 10 Signs You've Gone over the Garden's Edge - How avid a gardener are you?
Sneak Some Zucchini on Your Neighbor's Porch Day - one of a vegetable gardener's favorites
Gardening Holidays - A reason to celebrate!
---
---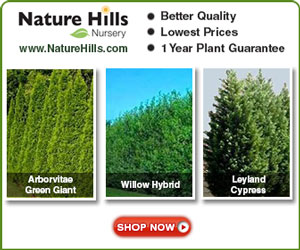 ---
Community News and Info:
The Gardener's Network Blog - We're talking gardens and gardening twelve months of the year. Don't miss a single garden article.