October - - A Pumpkin's Time to Shine !!!
Our Mission: To provide the finest quality home gardening tips, growing information, trivia and garden resources, from seed starting to growing, harvesting, storing and eating the flowers, fruits, herbs, and vegetables of our gardening labor.
The Gardener's Network is the perfect place for you and your plants, the perfect source on how to grow just about any plant!
And, it Fell With a Huge Thud......................

In what has become an almost annual Fall event, there' s new world record weight for giant pumpkins again this year. Fueled by a willingness to share "how to grow" secrets, and an almost universal belief that "I can grow a world record pumpkin", the record is destined to fall again and again. See the new world record pumpkin and who grew it.
Pumpkins Aglow.... Fall arrives all too quickly. It bursts upon the scene, and slowly turns everything ablaze in fall colors. Perhaps, the brightest blazing objects, are pumpkins. These big, bright, orange orbs are glowing now.... just for you. Celebrate Fall, pumpkins and Halloween at our sister site. No ones does fall and Halloween like Pumpkin Nook.
Ripening Green Pumpkins - We all want our pumpkins to be a bright orange for decorating, outdoor displays, and certainly for our carved pumpkins on Halloween night. But, sometimes Mother Nature doesn't ripen them in time. Luckily for you, there's away to help turn those green and partly green pumpkins into the traditional orange pumpkin color. Learn How to Ripen Green Pumpkins.


Enjoying the Harvest - Harvesting the first few fruits and vegetables was a real joy. In short order, we went from a few Zucchini and a couple heads of lettuce to more tomatoes, corn other veggies than we can possibly handle. While the production and variety coming out of your garden may now be dwindling, chances are, you are still harvesting far more than you can use. What you need is more different and unique recipes.
May we suggest........
Garden Recipe Tip of the Day: To avoid getting cut when chopping or slicing vegetables, let someone else hold the vegetables........


Back to Houseplants As we edge closer to the first frost, it is time to select the plants that you will bring indoors to grow as houseplants. If you haven't done so before, try a few herbs. Ones like basil, chives and oregano are good candidates to grow in your home. In addition to being good houseplants, you can use them in the kitchen all winter long.
The Apple Season is Now! There's something about a sunny, crisp autumn day, that draws you and your family to the apple orchard, to pick fresh, juicy and crisp apples. There's no shortage of varieties. So, you can pick ones perfect for eating fresh, or for use in all of your favorite apple recipes.
Composting .... Don't throw out those dead garden plants. Don't put the leaves by the curb....... compost them. Collect your garden waste, along the weeds and other plant matter. Turn it into rich garden soil for next season. The best gardens are grown by gardeners who make their own compost. More on Composting
How to Pick the Perfect Pumpkin - Whether you are going out to a pumpkin patch, or to a roadside stand, see our pumpkin picking tips on selecting the absolutely perfect pumpkin. See Pumpkin Picking Tips.


Gardening Tips for October - offers you gardening tips each month. Grab a garden tip or two for August. See October Garden Tips.
Today's Garden Quote: "I never met a Pumpkin I didn't like!" - - Author Unknown
---
On the Light Side:
The Fortune Pumpkin - Get your fortune read in a unique way.
Gardening Holidays - A reason to celebrate!
Greeting Cards Send an Ecard to a friend or family member for just about any event. Free Ecards from our sister site.
Gardening Holidays - A reason to celebrate!
---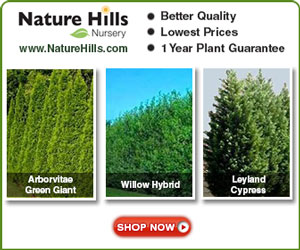 ---
Community News and Info:
The Gardener's Network Blog - We're talking gardens and gardening twelve months of the year. Don't miss a single garden article.